Tev Stevig is a Boston-based guitarist and multi-instrumentalist, specializing in a variety of plucked string instruments from the Balkans, Greece, Turkey, and Afghanistan. Tev performs with the Çeşni Trio, where he and fellow musicians Michael K. Harrist and Fabio Pirozzolo explore Contemporary Modal Music through original compositions based in Turkish makam and other Eastern modal traditions. Tev's solo/duo project, called Jeni Jol, incorporates elements of music from the Balkans, Greece, and Turkey in his original compositions and arrangements for clawhammer style fretless guitar. This style (also known as frailing) is closely associated with old time American folk music played on the banjo and has its roots in Africa. Tev's recent release, Jeni Jol: Music of the Balkans, Greece, and Turkey has garnered universal praise from critics and is one of Acoustic Guitar Magazine's best albums of 2013.
Tev regularly performs with the following groups:
Çeşni Trio
The Late Risers
The Labyrinth Ensemble
Mr. Ho's Orchestrotica
Klezwoods
Outside of his performing career, Tev teaches guitar, banjo, ukulele, and other plucked string instruments at several schools in the Boston area and out of his home studio on the North Shore of Boston. He enjoys traveling, surfing, and spending time with his family.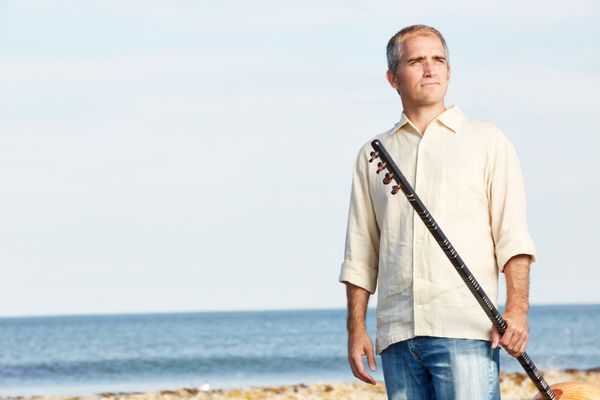 "One of the best albums of 2013. Played on clawhammer-style fretless nylon-string guitar, Jeni Jol is an album full of odd meters, beautiful melodies, and gorgeous tone." - Teja Gerkin, Acoustic Guitar Magazine

"...one of the world's most brilliantly individualistic guitarists....his clawhammer picking adds precision, often achieving an absolutely hypnotic fluidity....count this as one of the best albums in a year." –New York Music Daily

"... an eastern Mediterranean odyssey of carefully crafted arrangements and exquisite original compositions....Jeni Jol is truly an extraordinary recording of Eastern European inspired compositions and should make an excellent addition to collections of international music. – James Scott, Minor 7th

"It is a lovely album for background music, quiet contemplation, or serious listening. Methinks quite a few guitar pickers will develop serious envy from listening to this superb recording." – Rob Weir, Off-Center Views

"Stevig manages to fuse tradition with spontaneity with discipline...that some of the sounds are emerging from normal guitars is at times hard to credit...a compendium of serious superior musicianship unbound by any particular approach but composed of a blend of the higher reaches of many." –Mark S. Tucker, Folk & Acoustic Music Exchange

"...will touch you as deeply as a stroll in downtown Epidauros. Wondrous work here." – George W. Harris, Jazz Weekly

"Stevig is playing this music seriously, and in the process making some valid connections between disparate musical cultures."–Gary Whitehouse, Sleeping Hedgehog

"No one will be dissatisfied with this release. It's that good." – Matthew Forss, Inside World Music

"8 out of 10. This is stately and elegant music respectfully rendered and beautifully played." –Nilan Perera, exclaim.ca

"...initiates something genuinely new by connecting and combining seemingly disparate musical cultures." –The Boston Globe

"...you'll be pretty amazed at what Stevig can pull off here....a tasty set throughout, guitar fans are just going to love this. Well done."–Midwest Record

"All of these tracks are incredible. 4.5/5 stars." – Alicia Mayle, CelebrityCafe.com

"....guitarist Tev Stevig (is) a fount of original, odd-time signature pieces steeped in Greek, Romanian and Serbian folk music..." -- The Hartford Courant

"...exceptional guitar playing..."--AllAboutJazz

"...bracingly rippling guitar solos by Stevig..."--Lucid Culture

"...oud master..." - The Boston Globe